FriskyPaws Update
Busy work, much in progress
First, sorry for the delay, trying to keep these coming out before Sunday, things have been busy all around.
This week we've only got a couple items completed, mostly some quality-of-life improvements on software verification and input validation.
But there is a lot coming down the pipe…
We're starting to tackle some of the larger projects, stuff like putting in the user interfaces, building and polishing those tools and designs and wiring everything up.
Advanced Searching
A bit of work is almost complete with advanced searching, which allows building and sharing complex search queries.
Tagging UI
And a big piece is pulling together our UX with tagging, it's still really young though. Functionally it works but it still needs a bit of polish as we smooth out the user experience with it.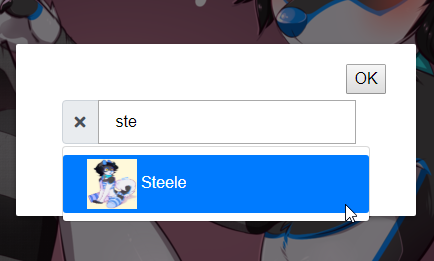 But as you can see, we provide auto-complete with preview images, still needs:
A lot of UX polish, refer to sizing/stylizing/the exit button/etc.
Displaying the owner's information.
Picking the character's avatar – not just the first picture in their gallery.
But it's coming along, expect all of this and more next week.
Registration and Account Security
Another big piece currently being worked on, so far we're eyeballing how deep into 2FA/3rd party log-ins (Facebook/Google+/etc.) we're going to get into, but it's very possible we'll roll with all of this on first release, just some nice bits of account security and/or ease of use with other platforms.